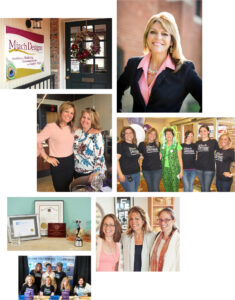 Mjach Designs was founded in 2003 by Melissa Lentz. The business was started simply with a dream, a computer and a lot of support from mentors and friends. Mjach was initially started as a Graphic Design company, and quickly won projects in Maryland, focusing on economic development and growth in our beautiful State.
As Mjach grew to a full-service marketing firm, we enjoyed the diversity of adding talented team members who brought their own unique ideas and creativity which quickly became our trademark. Our industry focus also grew to include medical, education and transportation, to name a few of the wonderful opportunities we were awarded. We also specialized in membership-based organizations and was excited and passionate each and every time we received a new event to "bring to life" with our creative talents and materials.
We care deeply about building community and giving back and have worked several years with many organizations, offering and delivering pro-bono services. "People First" has been our mission from day one and will continue to be our focus through the life of Mjach Designs.
Today, as our industry has changed greatly, so has our business focus, capabilities and expertise. Mjach is a leader in marketing strategy in North America. Our projects are centered around holistic approaches to brand and communication. We work with our clients to research, analyze, identify and plan their communication strategies. We understand that we need to identify areas of focus for our clients to achieve and maintain a competitive edge.
We love what we do and THAT is what keeps our brand alive!
---
---
Mjach Designs is a Certified Minority, Disadvantaged and Women's Business Enterprise (MBE/DBE/WBE).